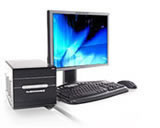 Metroplex Tech is an information technology consulting firm serving the Dallas Fort Worth Metroplex since 1999. We are a full service computer, network and systems integrator specializing in providing turn-key IT solutions, services and support to corporations and organizations of all sizes.

Metroplex Tech uses real-world expertise and experience to help our clients solve their business challenges with the use of practical Information Metroplex Tech . We can assist in maximizing investments to:

Plan future system integration costs
Reduce system architecture complexity
Improve business technology RIO
Optimize business process flow
Lower business IT expenditures
Plan for business continuity
Support core business priorities

Our team of skilled professionals provide long-range planning and technical services that are customized to the specific needs of each client.

Metroplex Tech staff have the knowledge and real-life experience to handle today's complex business and IT environments. Our IT specialists are individually accredited and certified in specific technologies, such as Microsoft, IBM, Dell and Cisco.

At Metroplex Tech, we have the in-depth know-how and understanding to respond to our clients unique challenges and opportunities. Metroplex Tech prides itself with always achieving total client satisfaction. Contact us today to discuss your specific needs.